With the significantly developing LOT market, growing awareness for smart home technology and accelerated urbanization,smart home is taking up an increasing proportion of the market. According to the statistics,the household penetration rate of smart home in 2022 is 14.2% , and by the year of 2026, this rate will increase to 25 %,the number of smart home households will reach 573.7 million as well. Also in 2026, the compound annual growth rate is predicted to increase by 13.97% and the smart home market capacity is supposed to reach $195.20 billion. These statistics indicates one fact that smart home owns a prosperous prospect and remains huge economic potential for enterprises to explore.
Cabinetry and furniture designs are evolving to meet the demand for greater functionality within smaller spaces.Thus when designing a smart home system, manufacturers should regard practicality as the core and fully consider the user's demand for smart home functions.Focused on providing customers with customized service in intelligent drive solution design, component production and assembly, a recently developed intelligent sliding door cabinet system of ZHAOWEI Machinery & Electronics Co., Ltd had drawn the attention of manufacturers for its advantages of light-weighted and micro structure. In using this system, furniture such as display cabinets, bathroom cabinets and dressers can be of better durability and stability.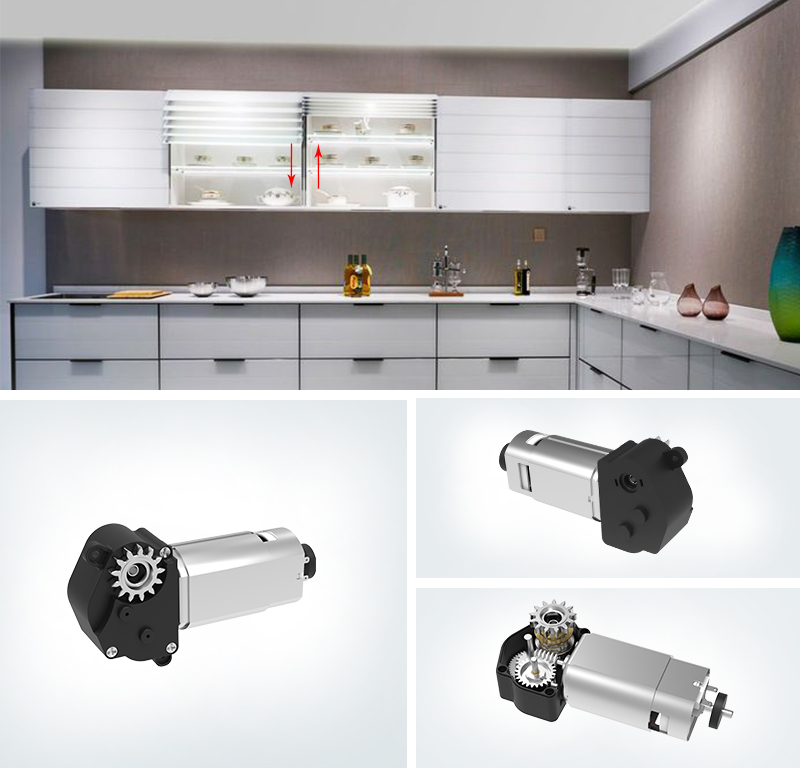 The intelligent sliding cabinet door is an important component of smart home.With the help of intelligent sliding cabinet door system,people can control the opening and closing of the doors easily through the form of touch. While the existing sliding cabinet door are complex in design and inconvenient in installment and maintenance, and after a period of use, the friction between parts is easy to generate noise which violates the convenience principle of smart home design.In view of this deficiency, ZHAOWEI presents a comprehensive program of sliding cabinet door system that integrates worm gear and electric clutch to solve the problems of high noise level and poor use stability.
Fashion and beauty are the main selling points of the existing intelligent sliding cabinet door. The hanging cabinet door of the sliding cabinet is designed as an electric door panel. With only a light touch, the cabinet door can slowly open like the wings of a bird, which is not only elegant but also full of a sense of technology.Regarding the requirements for aesthetics of the sliding cabinet door, ZHAOWEI adopts a lightweight and miniaturized structure as much as possible to hide the gliding cabinet door system inside based on the analysis of the transmission structure.
Indeed, the opening and closing of the intelligent sliding cabinet door is automatically driven by the components in the system. And after long time of use, the friction between the components would affect the service life of the drive system. Considering of its maintenance and installation, ZHAOWEI sliding cabinet drive system adopts a compact structure that can reduce the friction. In this way, the service life of sliding cabinet door can be extended and the cost of after-sales can be reduced as well.
Believing in the huge economic potential and ample innovation space of smart home, ZHAOWEI keeps paying attention to the frontier trends of this industry, constantly makes positive changes according to the market, and focuses on products, technology, and service improvement. Together with ZHAOWEI,let us provide a real smart life for consumers and witness the prosperity of smart home.
Media Contact
Company Name: Shenzhen Zhaowei Machinery & Electronics Co. Ltd.
Contact Person: ZHAOWEI
Email: sales@zwgearbox.com
City: Shenzhen
Country: China
Website: https://www.zwgearbox.com/smart-home-drive/smart-wall-cabinet-motor
Disclaimer: This article is reproduced from other media. The purpose of reprinting is to convey more information. It does not mean that this website agrees with its views and is responsible for its authenticity, and does not bear any legal responsibility. All resources on this site are collected on the Internet. The purpose of sharing is for everyone's learning and reference only. If there is copyright or intellectual property infringement, please leave us a message.